NEXT SHOW:
at Valley West Mall
10590 France Ave S, Bloomington, MN 55431
May 3&4
show times are Saturday 9-5 and Sunday 10-3
News
(Updated April 7th, 2014)
TCSCC Charity Program Each month, two new organizations will be recognized and receive donations on behalf of the club. Any current club member can submit an organization for consideration. The only stipulation is that it NOT be a national organization (Cancer Society, ALS, etc.). The purpose is to help Minnesota, Wisconsin, and Iowa organizations in need of some financial assistance for their programs. If you would like to submit an organization, or need more information, please contact Dave Bonde (dandcbonde@charter.net) or 1217 Central Ave., Red Wing, MN. 55066. Information needed is: the name of the organization, purpose for consideration, a contact person with phone number or email address.
Online Catalog: The online catalog contains autographed items for sale from the many guests who have appeared at TCSCC shows. Check it out and support the club.
Minnesota Twins Card and Minnesota Vikings Card Web Sites: Informational websites for Minnesota Twins and Vikings collectors. The websites offer collectors a chance to view, or even print out, lists of Twins and Vikings cards issued by company, year, individual, and even position. These are great sites for one who often wonders; Do I have all the cards that were issued from this set? These are not for-sale or buy websites either, strictly informational tools. Check out the Twins at www.twinscards.com. Check out the Vikings at www.vikingscards.com.
Upcoming Club Show Schedule
2014
May 3-4
June 7-8 (auction Sat 2p)
July 12 (Saturday only due to All-Star Festivities)
August 9-10
September 6-7 (auction Sat 2p)
October 4-5
November 1-2
December 6-7 (auction Sat 2p)
December 20-21
Show Times
Saturdays 9-5
Sundays 10-3
All club shows are currently being held at Valley West Mall in Bloomington. 10590 France Ave S, Bloomington, MN 55431 Click here for an interactive mapquest map.
Show Location: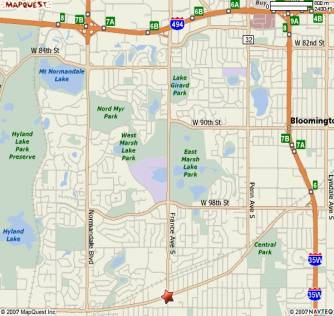 Valley West Mall, 10590 France Ave S, Bloomington, MN 55431, located at the Northwest corner of France Ave. and Old Shakopee Rd (County Rd 1). Head South on France Ave. from Interstate Highway 494. The mall is on the right hand side, just after the railroad tracks. Cub Foods and McDonalds are there. Click here for an interactive mapquest map.
Show Tables: There may be tables available for future shows. Contact Dave Bonde if you are interested.
************************************
Suggestions?
Have a suggestion for the club? What can we do to improve? Is there an autograph guest you would like to see? Send us an email and let us know your thoughts!
Web Site Updates: If you would like to contribute something for the website, please contact the site webmaster. News articles, stories,etc. are welcome.
Club Information
Click on the links below to display other information about the club.

Membership

Contact Us

Online Catalog

Links to websites run by members
advertisements
*********************
Maplewood Mall
Sports Card Show
April 11 - 13
I-694 and White Bear Ave
for more info contact XHAWKE@frontier.com or 715-356-3123
***************************
Triple Crown Sports Collectibles
presents
Sports Card & Bobblehead Shows
at Southtown in Bloomington
(I-494 & Penn)
(click dates for more info)
2014 Schedule
September 27 &28
November 15 & 16
**IMPORTANT**
Our shows have relocated to Southtown Shopping Center in Bloomington on the southeast corner of I-494 and Penn Ave.
If you have any questions, email Joe vikingstwinsman@gmail.com or call 952-927-6586.
********************
Wisconsin Sports Card Club Show
Cedar Creek Mall
10101 Market Street
Wausau, WI 54474
2014 Show Dates
May 17-18
for more information contact Mike 715-356-3123 or Doug 715-225-0042
**********************
*********************
Your Local Card Shops
Three Stars Sportscards is located in Roseville at 2801 Hamline Avenue in the Hamline Center Mall.
Visit the website threestarssportscards.com
Uncommon Sports Cards located in Richfield on Penn Avenue. Visit the website uncommonsportscards.com
Fan HQ located on the second floor of Ridgedale Mall near Big Bowl. Featuring an assortment of autographs, memorabilia and apparel items. Fan HQ is open normal mall hours (M-Sat: 10-9 Sun: Noon-6). Visit the website FanHQStore.com
Sideline Sports Collectibles in the Crossroads Mall, 4101 West Division Street, St. Cloud. sidelinesportscollectibles.com